Choosing the right metric for measuring the results of your marketing efforts is easy, but if your choice falls on leads, you are probably on the wrong track. The main task of marketing teams in eCommerce is to generate leads, and provide new opportunities for sales. There is a catch here. Leads are not making money, accounts are!
The key metric for Account Based Marketing is revenue. Moving the focus from leads to accounts, the company will grow revenue from new sales, and generate more revenue from existing customers. Account Based Marketing has the power to transform the organization of your marketing and sales.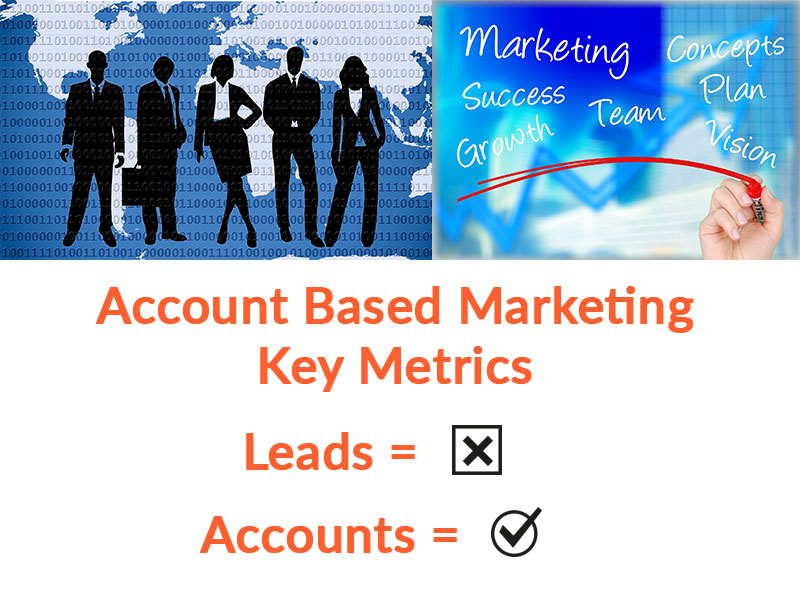 Both B2B and B2C companies need Account Based Marketing
Numbers are the best in supporting this claim. Use data from your marketing efforts in lead generation to show how much money you, or your marketing team spent, and compare it to the potential return on investment (ROI). Your data should include:
YTD (Year-to-Date) generated leads: the sum of leads generated by the marketing department annually, quarterly, or monthly, during the last 12  months
Revenue from newly generated leads: comparison of the total revenue of the company to the revenue from the leads acquired by marketing efforts
Revenue from existing (loyal) customers: shows how much money the company generates from the existing client base
The aim is to prove inefficiency of the Lead Based Marketing. If marketing is spending money on generating a large number of leads that don't increase revenue, it is a waste of money and other resources that also cost money.
Statistical data brought by researchers strongly supports the approach of Account Based Marketing in eCommerce. Let's analyze some of them:
According to Forrester, only 0.75% of leads bring revenue to the company
Over 90% of B2B marketers acknowledge Account Based Marketing as important or very important, as said by SiriusDecisions
LeanData found out that 86% of professionals in marketing and sales stated that their companies have begun utilizing targeted account strategies
Over 60% of B2B marketing professionals involved in a survey from Terminus, said they plan to implement the program of Account Based Marketing during the next year
Account Based Marketing resulted in higher ROI than marketing activities with other approaches, stated by 97% of marketing professionals surveyed by Alterra Group
And 85% of successful marketers who know how to measure ROI gave two interesting answers: 1) Account Based Marketing delivers higher ROI than all other approaches, 2) it is beneficial for retaining and expanding relationships with existing clients
Forget measuring leads as the key metric
The focus of marketing activities and efforts has to move from acquiring new leads to best-fit accounts. Most of the marketers nowadays find it relatively easy to find leads. There are many different ways to generate them, and it is not our aim to analyze them here. The important fact is that it really is not so important how many leads you have, but how much revenue they produce for your eCommerce business, or for your business in full.
Key fact to remember here is that sales professionals in your company close deals with accounts, not leads. Income is generated from accounts, not leads. When investing in marketing efforts, assuming that you have accepted the Account Based Marketing approach, you are able to track the amount of money invested in each account, and compare it to the ROI of every single account. Revenue becomes the primary metric, helping you to maximize your overall marketing efforts. Like this you will:
Align your sales and marketing teams and their efforts: while before the marketing was strongly focused on generating leads, and sales only focused on revenue, the new approach unites sales and marketing teams with the same goal: to find the right (best-fit) accounts that will bring revenue
Build credibility: before, you could often hear sales people talking about huge amount of leads they receive from the marketing, that are useless. Changing the focus of the marketing team to align with the aims of the sales team, all marketing efforts become much more credible
Create business value: the only important results in financial statements of the company are revenue and profit. No number of leads is mentioned there. Revenue is the KPI (Key Performance Indicator) that deserves attention, and it is the only factor to show the value of the marketing team for your business
The right way to invest your resources in Account Based Marketing
It is important to know how much revenue is generated for every dollar invested in marketing. The main resources to employ in this approach are:
People (or better said, the right people): you don't have a more essential resource in your company than people. Members of the marketing and sales teams should work together on growing revenues. This newly formed team is popularly called "smarketing". We will talk about this later on
Technology (or better said, the right technology): advanced software tools available in eCommerce, for both B2B and B2C strategies and approaches in business, are used to identify, target, and in the end engage accounts. We will describe these tools later on
Money: marketers always have limited budgets. You can measure how much you spent on different activities, and how many leads you have generated. Or, you can change your approach to the Account Based Marketing approach, and measure your campaign spend per each account. These metrics are important, and we will analyze them later on
Time: in Account Based Marketing you measure the amount of time invested in each and every account. You also track the progress to closing the sale
We have just scratched the surface with these first two articles, and hopefully tickled your imagination about what awaits you if you continue the reading. So, stay with me for more on ABM in the following articles…