With the support of their Predictive Analytics data implemented using artificial intelligence (AI) algorithms, deep learning, reccurent network or convolutional neural network models, Onine Retailers will be able to:
Prepare their strategies early, before competition does
Have clear plans on time
Always stay one step ahead the competition and continually improve the usage of data
Understand how people in different departments and on different positions in the company use the data for different purposes
Intelligently use Predictive Analytics, implemented using artificial intelligence (AI) with neural network architecture, to produce data to support the decision making process accurately and timely
There is a huge number of goals to achieve in eCommerce, more or less important, and the same number of ways to measure the results and success of this approach: increasing sales, increasing profits, increasing customer base, increasing the number of customer purchases, maximizing sales per customer, maximizing sales per purchase, growing future business, being more visible, advancing brand reputation and recognition, minimizing customer abandonment etc. After setting these goals and employing advanced models in Predictive Analytics, successful Online Retailers will experience direct benefits from: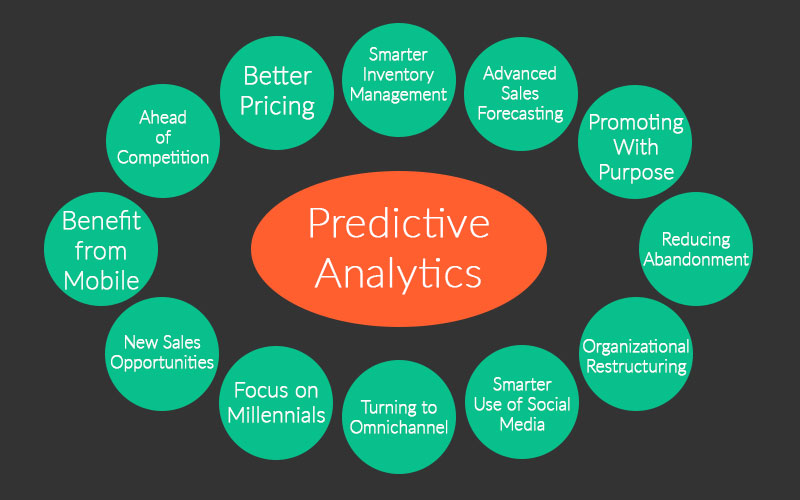 Better pricing. Offer optimized prices to customers, and at the same time maintain high profits (avoid changing prices too often, giving too much discount). The chosen price for a product doesn't have to be the lowest one. You have to keep an eye on competitors' actions. Your Predictive Analytics has to be price intelligent, and as a result, your prices will be optimal.
 
Smarter inventory management. According to the Harvard Business Review the key to the success for Online Retailers is in having the right inventory at the right place, at the right time, AT THE RIGHT PRICE in order to preserve, increase, and maximize revenue margins. Your smart eCommerce platform will avoid overstocks, forced discounts, clearances, and shortages. How? By giving you the intelligent support to:
- Plan ahead knowledgeably which products to stock
- Plan ahead which products to stock in locations with higher demand at the time
- Decrease product levels where there is less demand at the time
- Move products to places where there are customers willing to purchase at higher prices
- Keep higher prices for products that are still in high demand when you have them in stock, but your competitors don't have them any more
 
Advanced sales forecasting. Online Retailers can significantly improve forecast accuracy by regularly updating their sales predictions based on early sales data, tracking the accuracy of their forecasts, and using multiple advanced approaches for forecasting. Advanced sales forecasting will help eCommerce in smarter planning of pricing, promotions, discounts and in overall sales.
 
Promoting with purpose. The result of promotions tends to be generating excitement of buyers for your products. Many of the largest Online Retailers as Amazon, Zappos, Shopbop have, and plan to decrease the number of promotions and discounts in order to protect their margins. By using Predictive Analytics they improved sales forecasting and realized that they have been too aggressive in lowering prices in the periods when they could have achieved higher margins.
 
Reducing shopping cart abandonment rate. Predictive Analytics module incorporated in your eCommerce platform will help you see when your customers start losing interest and prepare to leave your Online Store. That's what you can use as an alarm to bring in new strategies for personalizing the shopping experience with more interesting and relevant content, different products, and optimized offers of products in which your customers have previously shown their interest. The result is direct gain in the cart sales recovery, as you decrease the cart abandonment rate.
 
Organizational restructuring. Several people within your Online Retail business need to use data for different purposes. Managers of Marketing and Sales, as well as top management will be able to learn how to interact, communicate and exchange information between each other in new ways. This will result in faster achieving goals and creating better long term plans of the Online Retail business.
 
Smarter use of social media. Understanding how you may benefit from using social media as a marketing and sales channel, you will be able to use them for supporting marketing campaigns, instead of just communicating and promoting like you did before.
 
Turning to omnichannel approach. eCommerce combined with traditional sales provides many more opportunities, and that's why the Omni-channel approach thrives, and will grow more in the close future. Supported by Predictive Analytics it helps in smarter and better organization of important points like the supply chain, merchandising, and customer service. Online Retailers who implemented this approach are serving customers much better in many ways, as they are able to provide great shopping experience for customers, the convenience to shop online and try and pick up the goods in real stores closest to them.
 
Better and stronger focus on Millennials (born between 1980 and 2000). Millennials have become the largest base of consumers. There are approximately 80 million Millennials in the United States. And statistics shows that this huge group spends approximately $600 billion every year!  Millennials are main influencers on Online Retail businesses. They use mobile devices for researching, comparing prices, finding best offers and deals online. The strongest challenge for eCommerce is to optimize and be ready to make Millennials complete sales process over their mobile devices, and do it before competition does.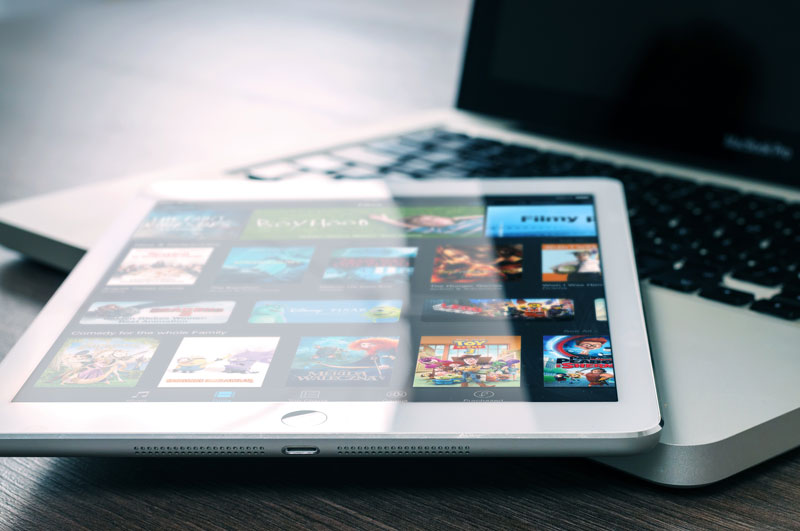 Capturing new sales opportunities. Predictions of the NRF for 2016 say that retail business will experience growth. Moreover, Online Retail will grow and expand at up to three times the rate of physical stores, so people who already shop online will shop more, and lot of those who haven't done it before will start to shop. This new and increasing Online Shopping traffic needs to be directed somewhere. Smart Online Retailers will be able to direct this traffic to their Online Stores. How? Predictive Analytics will help them better understand and predict the behavior and needs of those new customers and be prepared for their arrival.
 
Benefit from The Rise of Mobile. Mobile is here, and it's here to stay. It is not the same as eCommerce. It differs in many ways, but still it is not the opposite. It gives eCommerce a new dimension and new set of possibilities. Now, Online Retailers need strategies to support the mobile shopper. They have to provide a mobile experience to upgrade and enhance the ones from a physical and Online Store. Predictive Analytics also say that mobile payments will take off, so Online Stores need to prepare for accepting them.
 
Staying ahead of competition. Predictive Analytics equips you with strategic competitive intelligence, the key to making strategic decisions based on insights found in the competitive data. Equipped like this, Online Retailers can look at the market with the big picture in mind. They can create and develop proper strategies, and become adoptable to the changing market surrounding, and have in mind both risks and opportunities.
The conclusion on this subject sounds like this: for today's consumer who is connected in different ways (over desktop, laptop, mobile devices), who uses different channels for shopping (traditional in-store, eCommerce, Mobile Commerce), we need to have prepared proper strategies, and to have them on time.
Using Online Retail intelligent technologies empowered by Predictive Analytics, retailers can organize their supply channels to better respond to demand, make smarter decisions in pricing, and achieve measurable results in minimizing costs, and maximizing profit.